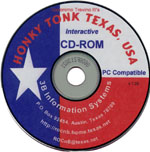 Honky Tonk Texas, USA CD-ROM
Price: US$24.95 (shipping and taxes, if any, included)
SOLD OUT!
We're sorry, but the Honky Tonk Texas, USA CD-ROM is currently sold out. As we're our own publisher, we cannot guarantee when another printing run will be available. This page will be updated if more copies become available.
NOTE: If you represent a Library, Educational or Historical Institution and would like a copy of the CD-ROM for your archives, please contact info@honkytonktx.com for information on obtaining a copy.
Visit the CD-ROM section of the site for details, screenshots and sample songs from this product.
Email sales@honkytonktx.com with any questions