Honky Tonk Gift Shop
Our selection of Texas Honky Tonk merchandise. We feature music from artists listed on our site, as well as books and videos about Texas Music & Honky Tonks.
NEW! Honky Tonk Texas, USA apparel and other merchandise
Get Honky Tonk Texas t-shirts, caps, mugs, bags and special Honky Tonk Baby items at the new CafePress Honky Tonk Texas Gift Shop. Use coupon code "FreeShip" for free shipping until December 6th.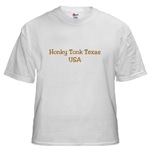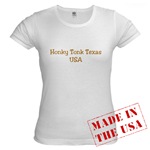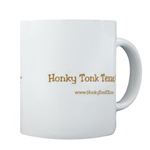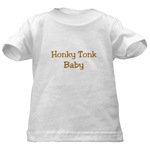 Our selections and reviews:

Music

Books

Videos and DVDs
The Honky Tonk Gift Shop proudly features the following artists:
Marcia Ball, The Band, Mike Blakely, The Byrds, Jimmy Day, Joe Ely, Kinky Friedman, Lefty Frizzell, Levon Helm, Ray Wylie Hubbard, Flaco Jimenez, Robert Earl Keen, Trish Murphy, Willie Nelson, Mickey Newbury, Gram Parsons, Johnny Paycheck, Elvis Presley, Ray Price, Tex Ritter, Marty Robbins, Doug Sahm, Billy Joe Shaver, Hank Thompson, Floyd Tillman, Texas Tornados, Ernest Tubb, Jerry Jeff Walker, Don Walser, Kitty Wells, Asleep At The Wheel, Hank Williams, Bob Wills, Townes Van Zandt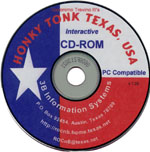 Honky Tonk Texas, USA CD-ROM - A documentary CD-ROM featuring a multimedia history of 27 Texas hill country Honky Tonks and profiles of 40 legendary Texas musicians. This unique CD-ROM for Windows PCs is produced by the creators of the Honky Tonk Texas, USA web site. Details, screenshots and music are available in the CD-ROM section of this site. The Honky Tonk CD-ROM is currently SOLD OUT.
Our gift shop features items from Amazon.com. We receive a small commission on sales of these items which helps us with the costs of operating this site.