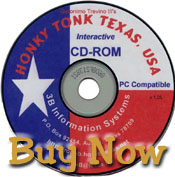 CD-ROM Artists & Music
Honky Tonk Texas, USA contains 77 full-length songs from various Texas musicans who have played the dance halls featured in this documentary. We have used Macromedia's Shockwave audio compression (a high quality variant of the popular MP3 encoding format) which enables us to include over 3 hours of CD-quality digital audio on this CD-ROM along with other multimedia content. The full, 16-song album of Honky Tonk standards, Live from Kendalia Halle is presented in a special section on the CD-ROM. This album features recordings of such Texas Honky Tonk favorites as Crazy Arms, El Paso and Waltz Across Texas as well as a special Hank Williams medly. Other dance hall favorites are included with the presentations for each dance hall and musician.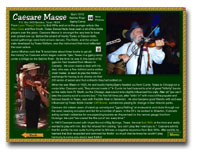 Sample songs from the Honky Tonk Texas, USA CD-ROM
These special web downloads are in the MP3 format and require a MP3 player, such as WinAmp for Windows.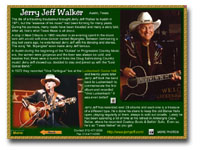 Some of the featured Texas musicians are:
- Jerry Jeff Walker
- Johnny Bush
- Robert Earl Keen
- Adolph Hofner
- Cornell Hurd
- Arkey Blue
- Don Walser
- Ray Wylie Hubbard
- Caesare Masse
- Alvin Crow
- Larry Nolen
- Slim Roberts
- Ponty Bone
- Steven Fromholz
- Tommy Alverson
- Sisters Morales
- Chris Wall
- Pappy Selph
Also included is a rare 5-miunte video of Tommy Alverson and Ray Wylie Hubbard in a live performance of Alverson's song Purty Boys.
In all, 40 Texas musicians are featured wih biographies, pictures and songs.
The Honky Tonk Texas, USA CD-ROM does not require any additional software to play music and video; all required multimedia players are built into our software and run on any Windows 95, 98, NT4 or 2000 system with a sound card. We do not require any additional software installations. Also, as our software is self-contained, we do not modify or re-associate any of the multimedia players that may already be installed on your system.
Order now for a special price of $24.95SOLD OUT (shipping & tax included), or view more detailed information about the dance halls and the rare pictures.
Email any questions to sales@honkytonktx.com