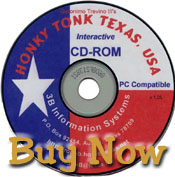 CD-ROM Dance Halls
Honky Tonk Texas, USA contains detailed histories for 27 of central Texas's most interesting dance halls. Originally these halls were the meeting places and town centers for German immigrants in central Texas, and as time passed they housed the words and music of such legends as Bob Wills, Earnest Tubb, Cliff Bruner and Milton Brown. Some halls still feature family music and dance on a nightly basis, while others are only open once a year for special occasions. The history of these dance halls is a history of the development of country music in Texas.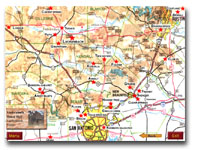 A guided tour of the Texas Hill Country takes you past 15 of the most well known Honky Tonks, from Gruene Hall and Luckenbach to the Floore's Country Store and the Broken Spoke.
We also include an interactive map of the Texas Hill Country, with all 27 halls marked and linked. The map can be used to visit the historical text and multimedia presentations for every dance hall. Over 75,000 words of historical text are included in the program, based on our personal interviews with hall owners and musicians.
Each hall in the collection also contains songs and sound clips from Texas musicians famous for their performances at these halls, as well as text-links to each musician's presentation which includes a biography, songs and additional pictures.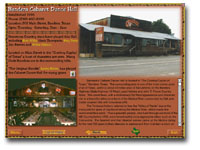 The featured dance halls of Honky Tonk Texas, USA are:
- Anhalt Hall
- Arkey Blue's Silver Dollar Saloon
- Bandera Caberet
- Braun Hall
- Broken Spoke Dance Hall
- Cherry Springs Dance Hall
- Cibolo Creek Country Club
- Clear Springs Dance Hall
- Club 21 Dance Hall
- Coupland Dance Hall
- Farmer's Daughter
- Fischer Hall
- Floore Country Store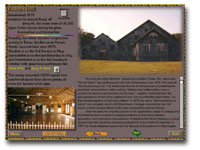 - Freiheit Store
- Grapetown Dance Hall
- Gruene Hall
- Hanging Tree Saloon
- Kendalia Halle
- London Hall
- Luckenbach Dance Hall
- Pat's Hall
- Quihi Gun Club
- Saenger Halle
- Texas Star Inn
- Turner Hall
- Twin Sisters Dance Hall
Order now for a special price of $24.95rare pictures and the Texas music.
Email any questions to sales@honkytonktx.com